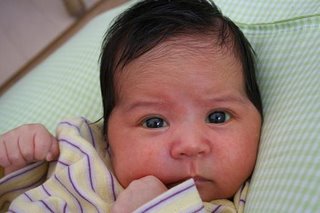 Apple-chan became one month old on May 13th. Today we went to the hospital to get one month medical examination. In Japan, babies have to get a medical examination at one month, three months, six months..... We met many moms and babies in the hospital who stayed at the hospital with us. We were so happy and we talked each other about how the our babies are growing up.
Weight: 9.82pound( she was 8.5pound when she was born) It's not much of a gain, but doctor said it's fine now, we were relieved. We have this famous word in Japan "Mom should deliver small baby and bring up big child." but our case is opposite... :( I delivered big baby and bringing up small baby.
Height:21.81"( she was 19.4" when she was born) She is almost 6cm taller than last month.